Heavy Duty Portable Generator and Red/Black
FEATURES
—2800 watts/ 2000 Rated watts (Diesel)
–Single cylinder, 4-stroke, air cooled, OHV engine with electric start is protected by a durable powder-coated frame
–A 12.5L fuel tank gives you up to 12 hours of continuous operation at half load when running on gasoline
— Convenient drop-down handles and 10" never-flat wheels for added mobility and easy storage
—Fail-safe overload / Low oil / Over temp engine protection
–Large Fuel Tank
The 8 gallon fuel tank allows you an extended 12 hours of continuous operations on a single tank when running on gasoline.
–Electric Push Start
The convenient electric push start makes turning on your generator quick and easy!
–Added Portability
10" Never-flat wheels and drop-down handles provide easy maneuvering and storage capability.
PRODUCT DESCRIPTION
Working Power
2.8kW
Max Power
3.0kW
Model
BS178F
Type
Single Cylinder,2-stroke
G.W(KG)
74
Dimension(mm)
420*340*325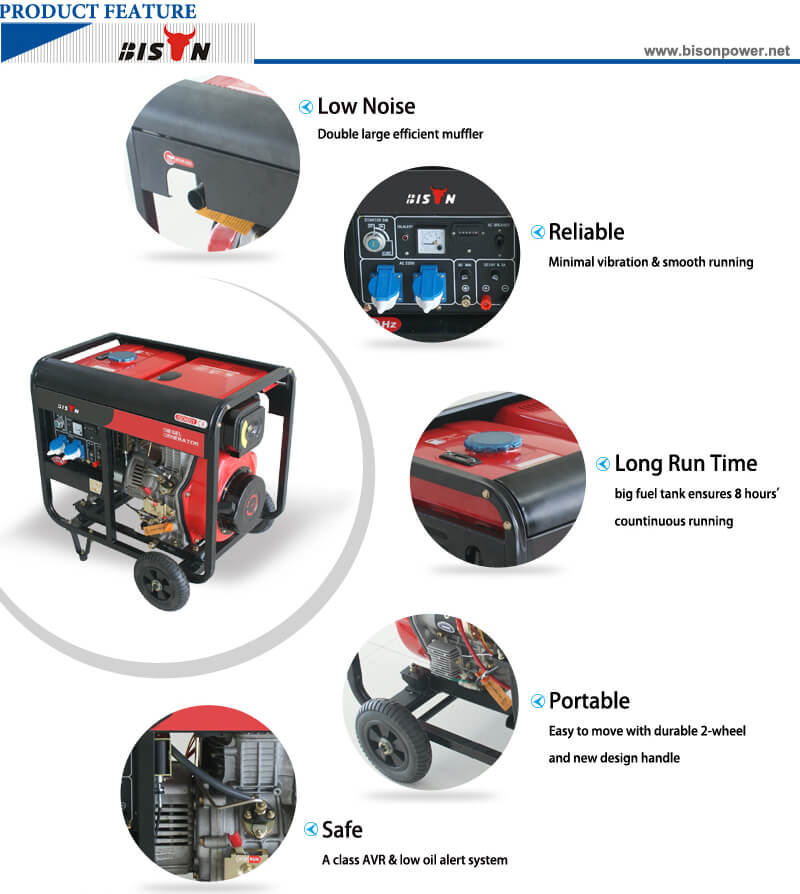 The reason to choose the diesel generator 
If you look at any large construction site, you'll see that most of the equipment use diesel engines and there's a very good reason for this. A diesel engine provides a lot of torque at low revs. This is very beneficial when your equipment is working under load. Diesel engines don't experience as great a drop in the RPM as the load increases. This is of particular importance when using a generator that needs to run at constant revs to ensure a stable power supply.
When one looks at fuel consumption, diesel engines are always the best. You're going to get extraordinary runtime from a tank of fuel when you compare diesel to gas generators. This is a great convenience. With a big enough fuel tank, a diesel generator will run all day without the need to fill the tank. Of course, there will be a cost saving. Depending on the cost of diesel in your area, you can experience significant savings. Even if you're paying more for diesel than gas, you'll probably be saving money simply because you're burning through a lot less diesel. The benefits of diesel runtimes will become abundantly clear when we review the best portable diesel generators.
Another distinct advantage to using diesel fuel is the safer and more convenient storage and transportation of your fuel.
Diesel, on the other hand, More safe requires extreme pressure and/or heat before it ignites. A diesel engine requires enormous amounts of compression for the combustion cycle when compared to a gas engine. Under normal atmospheric pressure, diesel needs heat before it combusts. This means that you need to expose diesel fuel to an open flame for a few seconds before it will burn. There's no chance of diesel exploding from a spark.
So diesel could been your  preferred option.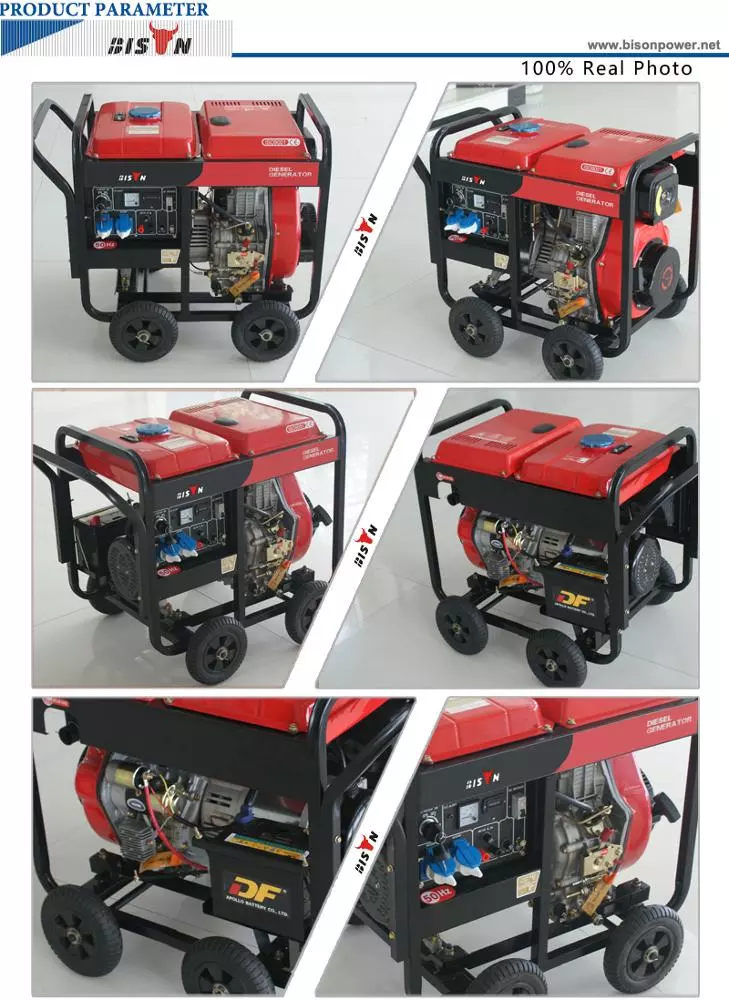 Features & Specifications
3000 Watt Peak Power,2800 Watt Rated Power
178F 296cc OHV air cooled engine.
Runs 7 hrs @ 1/2 load, Operating Noise 72 Db
4 Gallon Fuel Capacity, Low Oil Level Shut Down,
Voltage Switch Equipped For Full Power Operation
Test:
All the Raw material Will be tested one by one by sophisticated instruments to make the quality will be good;After the power assembly is completed, the performance of each power will be tested one by one;Before shipping ,all the machine will be test by the professional instrument ,Let the data tell the truth
About service:
Bison Group has focused on the Timely after-sales service,we have English Spanish Russian language exclusive service;and tracking service principle make customer know the their good real production information;and we have the professional after-sales service,Continue to handle the product situation until the situation is resolved
Based on our excellent quality and service, our company has long-term partnerships with many famous enterprises, and the products spreading all over the world.
Customer visiting Bison
---
| | | |
| --- | --- | --- |
| Bison have advanced equipments Customer visiting Bison | | Professional sales team |