Wholesale China Diesel Water Pump
At BISON, we specialize in manufacturing and supplying a wide range of high-quality diesel water pumps, designed to meet the diverse needs of various industries. Our extensive product line includes high pressure pumps, cast iron pumps, sump pumps and more, all engineered to deliver exceptional performance and reliability.
As an industry leader, our state-of-the-art facilities and dedicated team of experts enable us to provide customized solutions based on your specific requirements. Choose BISON for unrivaled excellence in diesel water pump solutions.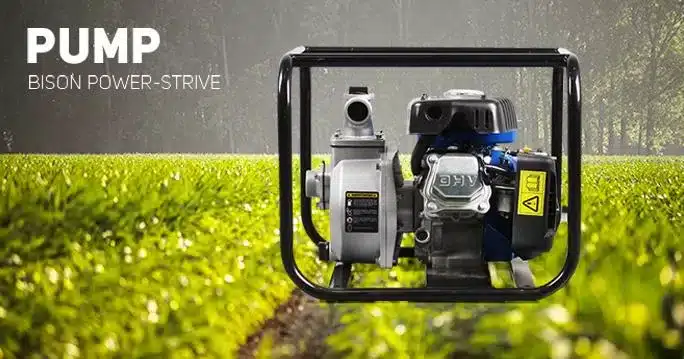 BISON diesel water pumps offer unparalleled fuel efficiency, robust performance, and exceptional durability, making them a top choice for diverse industrial and agricultural applications.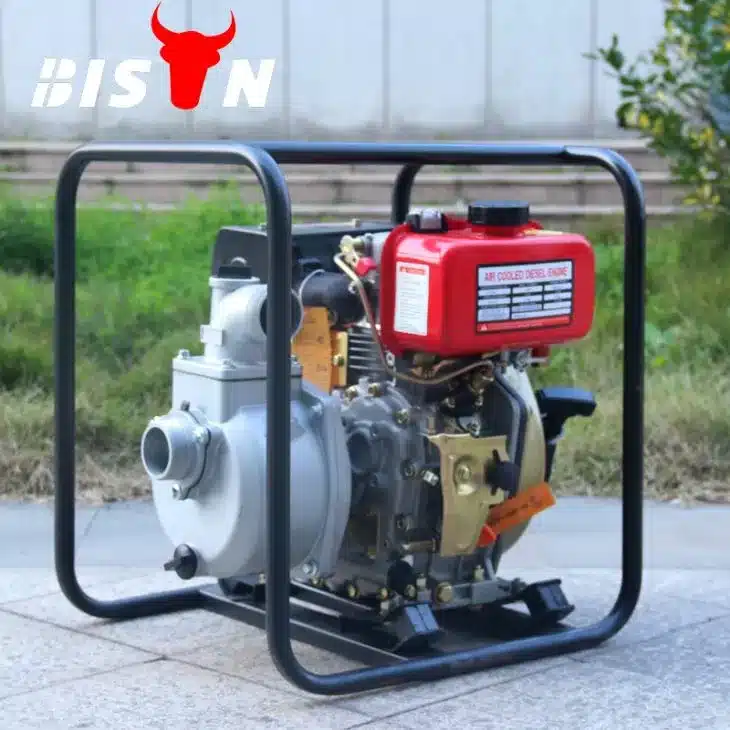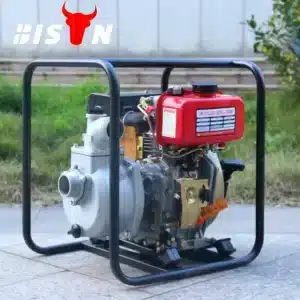 We do machine testing 100% to ensure the good performace.We are factory, so we can
Start your Chinese diesel water pump wholesale business from now on.
What makes us competitive?
Competitiveness of BISON Diesel Water Pump
What makes us competitive?
BISON diesel generator comparison chart
Model
BSDP15H(E)
BSDP20H(E)
BSDP30H(E)
BSDP20(E)
BSDP30(E)
BSDP40(E)
BSDP60(E)
BSDP15I
BSDP20I
BSDP30I
BSDP40I
Suction,discharge port diameter(mm)
40(1.5″)
50(2″)
80(3″)
50(2″)
80(3″)
100(4″)
150(6″
50(2″)
50(2″)
80(3″
100(4″)
Rated head(m)
60
50
70
26
28
31
15
75
90
75
60
Self-priming time (s/4m)
30
30
30
70
120
180
200
30
30
30
30
Max suction head (m)
8
6
8
Rated capacity (m3/hr)
18
23
38
36
50
96
180
28
35
47
90
Engine model
BS173F
BS178F
BS186FA
BS173F
BS178F
BS186FA
BS192F
BS178F
BS186FA
BS186FA
BS192F
HP
5.2
5.4
8.7
5.2
5.4
8.7
11
5.4
8.7
8.7
11
Speed (rpm)
3600
3200
3600
Engine type
Single-cylinder,vertical,4-stroke air-cooled diesel engine
Displacement (cc)
296
418
498
211
296
418
498
296
418
418
498
Bore×stroke (mm)
78×62
86×72
92×75
70×55
78×62
86×72
92×75
78*62
86*72
86*72
92*75
Starting system
Recoil or Electric
Fuel tank capacity (L)
3.5
5.5
5.5
2.5
3.5
5.5
12.5
3.5
5.5
5.5
5.5
Luxury big fuel tank(L)
12.5
13.5
12.5
Dimension(L×W×H)(mm)
570x470x580
605x485x600
605x485x600
510x450x525
580x450x560
660x480x620
780*540*840
580x460x560
655x480x625
655x480x625
655x480x625
Gross weight(kg)
45
57
59
38/50
46/58
60/75
141
48
65
75
93
Contact Us And Start Your Desel Water Pump Bussiness with Your Own Logo & Design
Diesel Water Pump Buying Guide: Choosing the Right Pump for Your Needs
As BISON, a leading diesel water pump manufacturer, our goal is to help you make an informed decision when purchasing a diesel water pump. With numerous options on the market, our buying guide will provide you with essential considerations to select the perfect diesel water pump for your needs. Follow these steps to ensure you choose the right BISON diesel water pump for your business.
10 Essential Steps to Choosing the BISON Diesel Water Pump
Assess Your Water Pumping Needs
Before making a purchase, evaluate your specific water pumping needs. Consider factors such as the volume of water you need to move, the distance it needs to be transported, and the application requirements. This assessment will help you determine the necessary flow rate and head pressure, guiding your selection process.
Determine the Power Requirements
BISON diesel water pumps come in various power ratings, measured in horsepower (HP) or kilowatts (kW). Calculate the power requirements based on your water pumping needs and the type of application. Ensure the BISON pump you choose has sufficient power to handle the desired flow rate and head pressure.
Consider Portability and Mobility
Evaluate whether you require a portable or stationary BISON diesel water pump. If you need to move the pump frequently between different locations or job sites, opt for a portable model with handles or wheels for easy transportation. For stationary applications where the pump remains in a fixed location, a non-portable BISON pump may be more suitable.
Assess the Build Quality and Durability
BISON diesel water pumps are designed for use in demanding environments. Choose a pump that can withstand rugged conditions by looking for pumps with sturdy frames, corrosion-resistant materials, and durable components. High-quality BISON pumps will have better longevity, minimizing the risk of breakdowns and reducing maintenance costs.
Evaluate Fuel Efficiency and Tank Capacity
Consider the fuel efficiency of the BISON diesel water pump. Look for models that offer optimal fuel consumption, as this can significantly impact long-term operating costs. Additionally, assess the tank capacity of the pump to ensure it can operate for extended periods without the need for frequent refueling.
Check for Noise Levels
BISON diesel water pumps are designed with noise reduction in mind. If noise is a concern, particularly in residential or noise-sensitive areas, look for BISON pumps with noise-reduction features. Our pumps are often designed with sound-dampening materials or mufflers to minimize noise levels, providing a quieter working environment.
Research Brand Reputation and Warranty
As a reliable and reputable brand, BISON offers high-quality diesel water pumps with excellent performance and durability. We stand behind our products by providing a comprehensive warranty that ensures adequate coverage for potential defects or issues.
Consider Maintenance and After-Sales Support
BISON diesel water pumps are designed with ease of maintenance in mind. Assess whether you have the resources and expertise to perform routine maintenance tasks. Additionally, BISON offers exceptional after-sales support, ensuring the availability of spare parts and assistance from authorized service centers. Prompt and reliable support is crucial in case of any issues or repairs.
Set a Budget
Based on your needs and the qualities you value most, decide on a budget. Finding a balance between quality, performance, and cost is crucial because BISON diesel water pumps exist in a variety of pricing ranges. When making a purchase, take the long-term value and return on investment into account.
Compare and Choose the Right BISON Pump
Once you have considered all the factors mentioned above, compare different BISON diesel water pump models that meet your criteria. To choose the pump that best suits your requirements and price range, compare their features, characteristics, and costs.
QUESTIONS?
CONTACT US TODAY.