Wholesale China Gasoline Engine​
Welcome to BISON, the powerhouse of gasoline engines in China. Our engine range boasts a diverse selection of both twin-cylinder and single-cylinder engines that are meticulously designed to give you extraordinary power performance. With our innovative two production lines, we ensure swift and seamless delivery of high-quality engines. Our commitment to you extends beyond sales, with exceptional after-sales service and a comprehensive inventory of engine replacement components. Experience the BISON difference – where power, precision, and unparalleled customer service unite.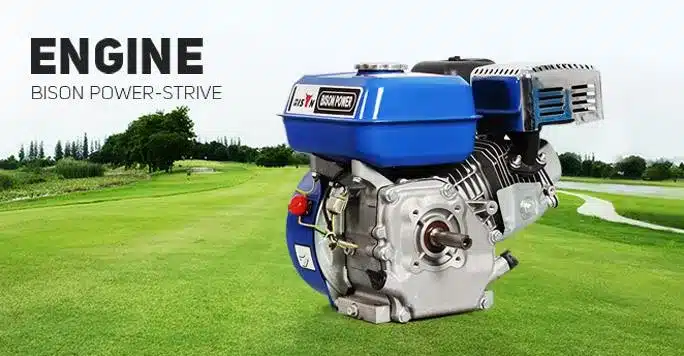 BISON's gasoline engine stands out for its robust power range, diverse engine types, and superior quality, delivering unparalleled performance and efficiency in every application.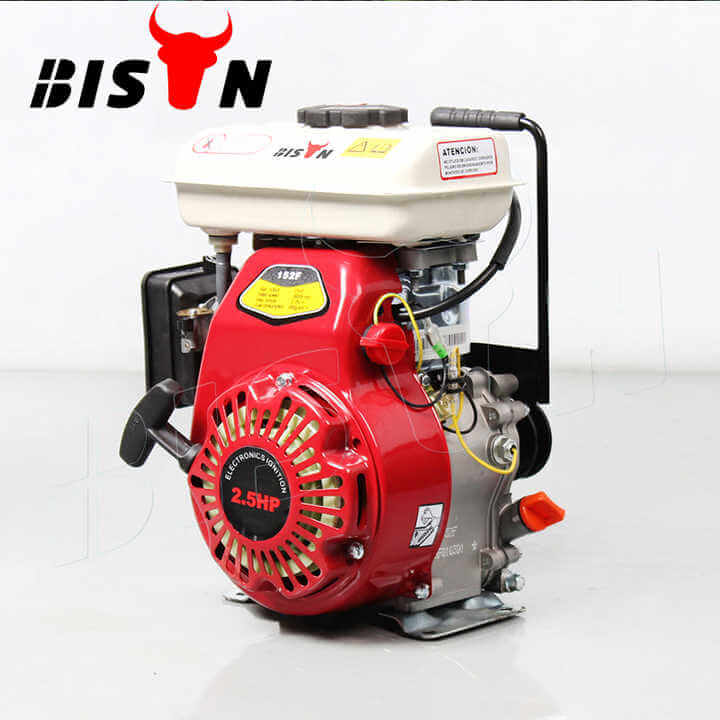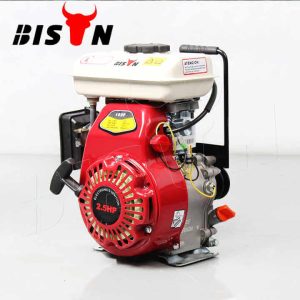 High RPM, low noise smooth running with minimal vibration Light weight, low cost Durable and
Start your Chinese gasoline engine wholesale business from now on.
What makes us competitive?
Competitiveness of BISON Gasoline Engine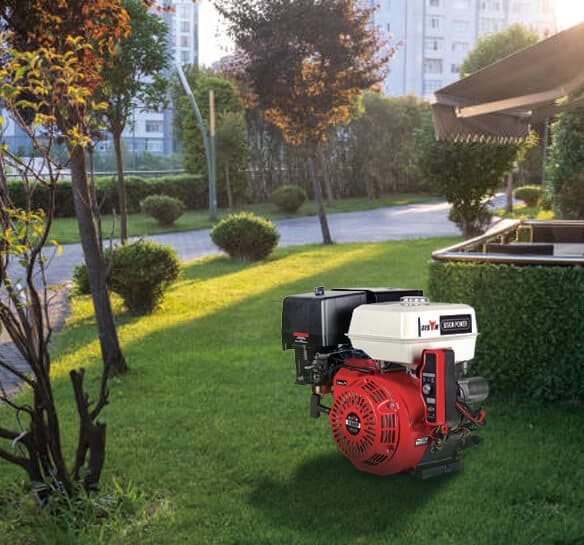 BISON gasoline engine comparison chart
Model & HP
BS156F(3.0HP)
BS168F(5.5HP)
BS168F-1(6.5HP)
BS170F(7HP)
BS177F(9HP)
BS188F(13HP)
BS190F(15HP)
BS192F(16HP)
GX100
GX160
GX200
GX210
GX270
GX390
GX420
GX440
Engine type
Air-cooled, 4-stroke, OHV, single cylinder
Bore× Stroke
56x38mm
68x45mm
68x54mm
70x54mm
77x58mm
88x64mm
90x66mm
92x66mm
Displacement
93cc
163cc
196cc
210cc
270cc
389cc
420cc
439cc
Compression ratio
7.5: 1
8.5: 1
8.5: 1
8.5: 1
8.2: 1
8.0: 1
8.0: 1
8.0: 1
Starting system
Recoil
Speed
3000 / 3600rpm
3000 / 3600rpm
3000 / 3600rpm
3000 / 3600rpm
3000 / 3600rpm
3000 / 3600rpm
3000 / 3600rpm
3000 / 3600rpm
Max output(kW/3600rpm)
3.0HP
5.5HP
6.5HP
7.0HP
9HP
13HP
15HP
16HP
Rated output(kW/3600rpm)
1.9
2.94
3.68
3.82
5.2
7.35
7.8
7.9
Torque
4.4N.m/2500rpm
10.8N. m/2500rpm
13N. m/2500rpm
14N. m/2500rpm
19N. m/2500rpm
26.4N. m/2500rpm
28N. m/2500rpm
28N. m/2500rpm
Fuel consumption
450g/kW. h
395g/kW. h
395g/kW. h
395g/kW. h
374g/kW. h
374g/kW. h
370g/kW. h
370g/kW. h
Fuel tank capacity
1.6L
3.6L
3.6L
3.6L
6L
6.5L
6.5L
6.5L
Oil capacity
0.37L
0.6L
0.6L
0.6L
1.1L
1.1L
1.1L
1.1L
N. W. /G. W.
10/10.5kg
15/16.5kg
16/17.5kg
16/17.5kg
26/28kg
31/33kg
32/34kg
34/36kg
Dimension
300x290x280mm
390x330x340mm
505x415x475mm
PTO shaft rotation 
Counterclockwise(from PTO shaft side)
Optional
N/A
Electric start, camshaft, air cleaner, recoil starter
Key Components of Small Gasoline Engines
Gasoline engines consist of several essential components that work together to ensure their smooth operation. These components include:
Piston
We produce robust pistons that oscillate seamlessly within the cylinder. This movement is a result of our precision engineering, transforming the force of combustion into linear motion to drive the engine.
Crankshaft
Our crankshafts are expertly crafted to convert the linear motion of the piston into rotational motion. This is a critical process in powering the machines or devices attached to our engines. Quality and durability are our top priorities when producing these essential components.
Ignition System
Our ignition systems, comprising key parts like spark plugs, ignition coil, and distributors, are designed for reliability and longevity. They ignite the fuel-air mixture at the precise moment, ensuring efficient combustion every time.
Valves
At BISON, our engines are fitted with high-quality intake and exhaust valves. These valves expertly regulate the flow of the fuel-air mixture and exhaust gases in and out of the cylinder, ensuring optimal engine performance.
Cooling System
Recognizing the importance of maintaining ideal operating temperatures, BISON incorporates advanced cooling systems in our small gasoline engines. These systems effectively prevent overheating, prolonging the life and enhancing the performance of our engines.
Cylinder
Cylinders provide the perfect combustion chamber for fuel burning, ensuring optimum power output and efficiency. We meticulously design and manufacture the cylinder, the core component of BISON gasoline engines.
Exhaust System
BISON's exhaust systems are designed to safely direct burned gases away from the engine while also reducing noise levels. Our commitment to environmental responsibility means we continually work to improve the efficiency and cleanliness of our exhaust systems.
We are a generator factory located in Taizhou City, Zhejiang Province. There are currently 2 factories with an annual output of more than one million units and more than 400 employees.
Quality control is essential to building a successful business that delivers products that meet or exceed customers' expectations. It also forms the basis of an efficient business that minimizes waste and operates at high levels of productivity. So, each of our products, whether raw materials or finished products, will be inspected and tested one by one.
Absolutely! Outdoor power equipment including lawnmowers, chainsaws, leaf blowers, and trimmers frequently employ gasoline engines. These engines provide the mobility and power essential for effective operation in outdoor environments.
A Comprehensive Guide to Purchasing Your BISON Gasoline Engine
Small gasoline engines are essential in a variety of applications due to their powerful, transportable, and efficient design. These engines are capable of delivering outstanding performance whether you're caring for your lawn, running outdoor machinery, or looking for a dependable supply of energy.
Things To Think About Before Purchasing Gasoline Engines
As a BISON sales representative, I'm thrilled to offer you guidance on purchasing a small gasoline engine. At BISON, we take pride in our superior quality and unbeatable performance. Here are some key factors to consider:
Power Output
To make sure the engine is capable of handling the task, calculate the necessary power output based on the anticipated application. BISON engines are designed with varying power outputs to cater to different needs. Our engines can handle a wide range of applications, from powering small machinery to larger equipment. Remember, the right power output ensures efficient operation and longevity.
Size and Weight
Take into account the size and weight of the engine, making sure it meets the needs for portability of your planned usage. Our engines are compact and lightweight, offering unparalleled portability. This makes them perfect for applications that require moving around or limited space.
Fuel Performance
Examine the engine's fuel efficiency because it can affect operating expenses and the environment. BISON engines are engineered for optimal fuel efficiency. This means lower operating costs and less environmental impact.
Product Range
We offer a wide range of engine models, each designed for specific applications. Whether you need an engine for a generator, water pump, or agricultural equipment, BISON has the right fit for your needs. Besides, BISON offers both two-stroke and four-stroke engines.
Starting Mechanism
BISON provides both manual pull start and electric start models. Choose according to your convenience. Our electric start models offer the ease of a button press, removing the physical strain of pull-starts.
Emission Standards Compliance
All BISON engines comply with international emission standards, ensuring they're eco-friendly. We're committed to protecting our environment alongside powering your equipment.
Price
BISON offers competitive pricing without compromising quality. We provide value for money, making us the preferred choice for businesses looking for cost-effective solutions.
Noise Levels
Noise level is a significant factor for many users. Some applications may require quieter operation, so consider the noise levels produced by the engine. BISON engines are built with advanced technology that ensures quiet operation, providing a more comfortable working environment.
Maintenance Requirements
Assess the maintenance requirements of the engine, including oil changes, air filter replacements, and spark plug inspections. BISON engines are designed with user-friendly maintenance in mind. From oil changes to air filter replacements, we've made it easy so you can focus on getting the job done.
Safety Features
Safety is our priority. Our engines come with features like low-oil shutdown, overload protection, and spark arrestors. We believe in keeping you safe while you work.
Warranty and Customer Support
Check the warranty offered by the manufacturer and the availability of customer support for any troubleshooting or assistance needed. As a BISON customer, you'll enjoy comprehensive warranty coverage and access to our dedicated customer support team. We're here to help you with any issues or questions you might have.
Maintaining Your Small Gasoline Engine: Best Practices
Your little gasoline engine's lifetime and performance depend on proper maintenance. You can harness the full potential of small gasoline engines and enjoy their benefits for years to come. To maintain the smooth operation of your engine, adhere to following recommendations:
Regular Oil Changes: To guarantee appropriate lubrication and stop engine wear, change the engine oil as directed by BISON.
Air Filter Maintenance: Cleaning or replacing the air filter on a regular basis will stop junk from entering the engine and impairing performance.
Spark Plug Inspection: Inspect the spark plug periodically and replace it if necessary to maintain optimal combustion and starting performance.
Professional Servicing: If you encounter complex problems or need major repairs, please consult your local dealer or professional technicians.
Troubleshooting Common Issues with Small Gasoline Engines
Despite proper maintenance, small gasoline engines may encounter occasional issues. Here are some common problems and their possible solutions:
Hard Starting: If the engine is difficult to start, check the spark plug, fuel filter, and carburetor for clogs or damage. Also, ensure the choke and throttle settings are correct.
Poor Performance or Stalling: Inspect the air filter and clean or replace it if necessary. Check the fuel system for blockages or fuel contamination. Adjust the carburetor if needed.
Excessive Vibration: Excessive vibration may indicate a loose or damaged component. Inspect and tighten all fasteners, including bolts and screws.
Overheating: Check the cooling system for proper coolant levels and ensure the engine is not operating in high-temperature environments. Clean any debris blocking the cooling fins.
Excessive Smoke: Different colors of smoke may indicate various issues. Blue smoke suggests oil consumption, while black smoke can indicate a rich fuel mixture. Consult a professional if persistent.
Lack of Power: Inspect the air filter, spark plug, and fuel system for clogs or damage. Adjust the carburetor settings for optimal fuel-air mixture.
Remember, when you choose BISON, you're not just buying an engine. you're investing in a long-term partnership with a company that values quality, performance, and customer satisfaction above all else. Let BISON power your success!
QUESTIONS?
CONTACT US TODAY.