Wholesale China gasoline high pressure washer
BISON is a leader in gasoline high pressure washer manufacturing industry with more than 20 different styles. BISON gasoline pressure washers range in power from 2000 PSI for light duty tasks to a powerful 4200 PSI for heavy duty applications. Beyond that, our washers are packed with unique features such as adjustable pressure controls and four different nozzle options for unrivaled versatility.
BISON covers an area of 100,000 square feet and has 5 state-of-the-art production lines. Our commitment to quality and excellence has earned us a number of accreditations including ISO 9001:2015 for our quality management system and CE marking for compliance with EU safety, health and environmental requirements.
Trust us to provide you with seamless, efficient and superior pressure washer solutions.
Gasoline High Pressure Washer
BISON's line of gasoline high pressure washers offer unrivalled power and durability, with easy-start engines, adjustable pressure settings and sturdy construction, ensuring efficient, high-performance cleaning for any outdoor task.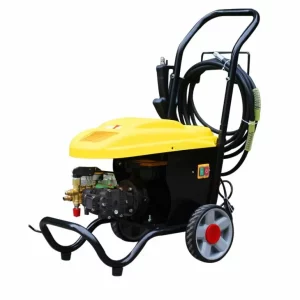 This commercial pressure washer is durable with one piece alloy aluminum connecting rod. Having two
Start your Chinese Gasoline High Pressure Washer wholesale business from now on.
What makes us competitive?
Competitiveness of BISON Gasoline High Pressure Washer
BISON Gasoline High Pressure Washer comparison chart
Gasoline High Pressure Washer
BS-170A/B/C/D/L/NA/NC/NB
BS-180A/B/C/D/L/NA/NC/NB
BS-G150A/B
BS-G200A/B
BS-G250A
Engine Power:
6.5HP
7HP
7HP
9HP
13HP
Engine model:
168F
170F
170F
177F
188F
Speed:
3400 RMP
Working pressure:
150-170Bar/2200- 2500 psi
180-200Bar/2600-2900psi
150Bar/2200psi
200Bar/2900psi
250Bar/3600psi
Flow:
9LPM
9LPM
12.6LPM
15LPM
15LPM
Start System:
Recoil Start/Electric Start
Pump modle:
BSP170 Axial pump
BSP180 Axial pump
PG200 triplex plunger pump
PG250 triplex plunger pump
Pump head:
Aluminum
Brass
Brass
Brass
Brass
G.W.(kg):
31.5/32/35/29/35/32.5/36/37
32.5/33/36/30/36/3.5/37/39
36kg/41
50kg/62.5
58kg/73
Dimension(mm)
560*475*535 650*410*520 620*450*535 560*540*635 830*420*465 530*530*535 620*440*530 830*440*535
560*475*535 650*410*520 620*450*535 560*540*635 830*420*465 530*530*535 620*440*530 830*440*535
620*410*465 630*440*535
760*580*620 770*530*620
760*580*620 770*530*620
20FT(Set)
192/200/180/132/195/176/180/140
192/200/180/132/195/176/180/140
255/180
90
90
40HQ(Set)
500/525/475/352/468/440/475/350
500/525/475/352/468/440/475/350
530/475
240/264
240
How to Choose the Best Gasoline Pressure Washer for Your Business?
A gasoline pressure washer might be greatest friend when it comes to taking on challenging cleaning duties. A gasoline pressure washer offers the strength and effectiveness you want, whether you're trying to clean your patio, get rid of tough stains from your driveway, or blast dirt off your automobile. In order to assist you in making the best purchasing choice, BISON will go over the essential elements to take into account when selecting a gasoline pressure washer, point out its advantages, and address some often asked issues.
As a Gasoline Pressure Washer Dealer, it is vital to understand the key factors that go into buying a good product. The following guide can help you buy these machines from Chinese manufacturers.
#1. Know your product
Before you start buying, you need to have a solid understanding of gasoline pressure washers. Familiarize yourself with the different types, sizes and uses. This knowledge will enable you to choose the products that best suit your market.
Pressure (PSI): PSI, or pounds per square inch, indicates how much pressure the gasket can produce. Higher PSI means more power. For light duty tasks like washing your car or outdoor furniture, around 2000 PSI is more than enough. For tougher jobs like cleaning concrete or stripping paint, you may want a washer with a PSI of 3000 or higher.
Water Flow (GPM): GPM, or gallons per minute, tells you how much water your washer uses per minute. The higher the GPM, the faster the cleaning speed because more water is needed to clean each minute.
Engine Sizes and Types: Gasoline pressure washers come in different engine sizes and types. A larger engine generally provides more power, but it's also heavier and may use more fuel. Look for a reliable engine brand for longevity and performance.
Pump Types: There are three main types of pumps: oscillating pumps, axial lobe pumps, and triplex pumps. Oscillating pumps are best for small, infrequent jobs. Axial lobe pumps are great for homeowners who use their pressure washers a lot, while triplex pumps are designed for everyday heavy-duty use.
Types of nozzles: Different cleaning tasks require different spray patterns. Look for pressure washers with a variety of nozzles, such as 0°, 15°, 25°, 40°, and soap, so you can switch between a high-pressure blast for tough stains and a wider blast for larger areas.
Hose quality and length: The hose should be strong and long enough to reach the area you want to clean without stressing the machine or user.
Portability: If you're moving your pressure washer, look for features like large wheels and a well-balanced design to make it easier to maneuver.
BISON offers a wide range of gasoline pressure washers with different PSI, GPM, engine sizes and types to meet all cleaning needs. Our products are equipped with different pump types according to the frequency and intensity of use. We also offer a variety of nozzle options for different spray patterns, and our hoses are durable and long for maximum reach.
#2. Research Manufacturers
Not all manufacturers are created equal. Take the time to research potential manufacturers to make sure they make quality machines. BISON has earned a solid reputation in the industry for consistently delivering high quality and reliable gasoline pressure washers. We have many positive customer reviews attesting to the durability and performance of our products.
#3. Check Quality Certification
Quality certifications such as ISO 9001 show that a manufacturer meets international quality standards. These certifications assure you that their products are reliable and meet certain safety standards. We comply with international quality standards, and besides ISO 9001, BISON also has Euro V certificate. This assures you that our products are manufactured under strict quality control measures and comply with environmental standards.
#4. Evaluate post-sales support
After sales support is crucial. Manufacturers should provide warranties and have systems in place to handle repairs, replacements and refunds. Not only does this protect your investment, but it also increases customer confidence in the products you sell. BISON will provide you with free repair parts, and we have a series of measures to deal with use, repair and quality improvement to ensure that you and your customers feel safe every time they buy.
#5. Compare prices
While price shouldn't be the only factor in your decision, it's still an important consideration. Compare prices from different manufacturers to make sure you get what you pay for. While maintaining high quality, BISON strives to offer our products at competitive prices.
#6. Order samples
Before placing a large order, please request a sample. This allows you to inspect the product directly and test its performance. If the manufacturer is unwilling to provide samples, it may be a red flag. BISON understands the importance of first-hand experience, so we are happy to provide product samples for evaluation. This ensures our dealers can be confident in the quality and performance of our products before purchasing in large quantities.
By following this guide, you can buy petrol pressure washers from BISON with confidence, ensuring that you stock a high-quality product that will satisfy your customers and grow your business.
QUESTIONS?
CONTACT US TODAY.
Contact Us And Start Your Pressure Washer Bussiness with Your Own Logo & Design