Wholesale China Gasoline Water Pump
BISON produces all kinds of gasoline water pumps, including centrifugal pumps, chemical pumps, self-priming pumps and high pressure pumps. Power ranges from portable 1-2 hp units to powerful industrial pumps over 10 hp. Our high production capacity enables us to efficiently meet large-scale demands. We are proud to hold ISO (quality and environmental management) and CCC accreditations which demonstrate our commitment to quality and safety. As we continue to innovate and strive for excellence, we assure you that our pumps represent the perfect combination of efficiency, durability and performance, tailored to your needs.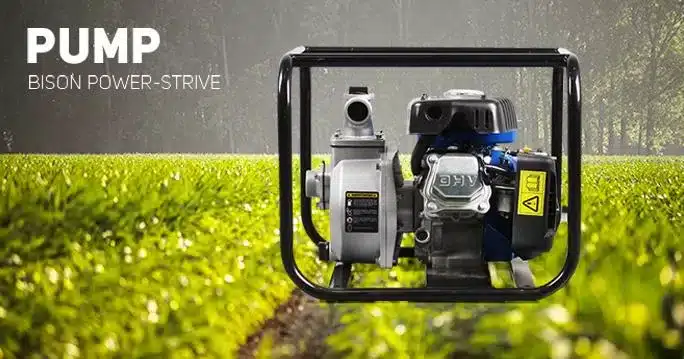 The BISON range of gasoline water pumps offers unrivaled versatility, high power range, excellent efficiency and the guarantee of internationally recognized certifications, making it a reliable solution for a variety of agricultural needs.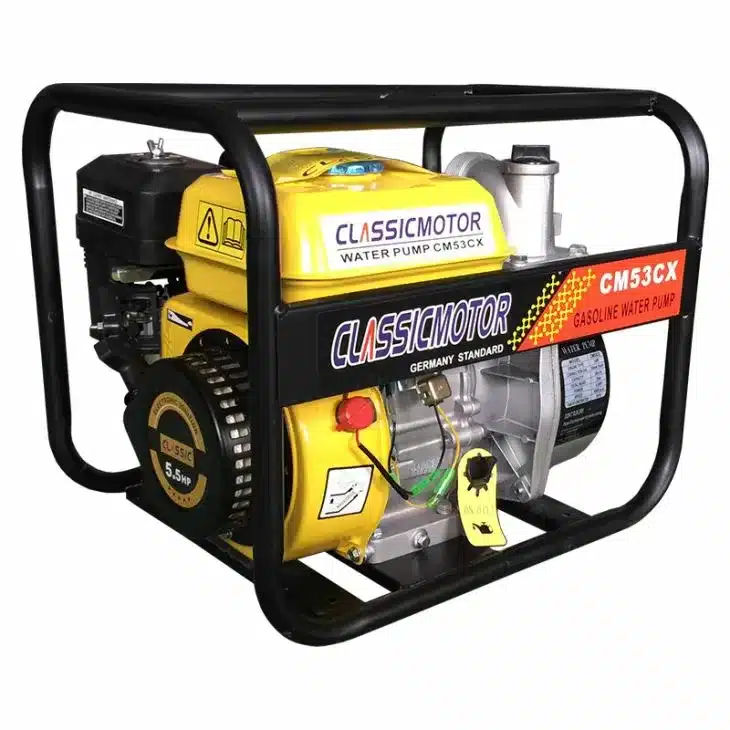 Strong Anti-vibration feet.Alibaba golden supplier, factory recognized by "CE/ISO9001" and so on.The professional design team
Start your Chinese Gasoline Water Pump wholesale business from now on.
What makes us competitive?
Competitiveness of BISON Gasoline Water Pump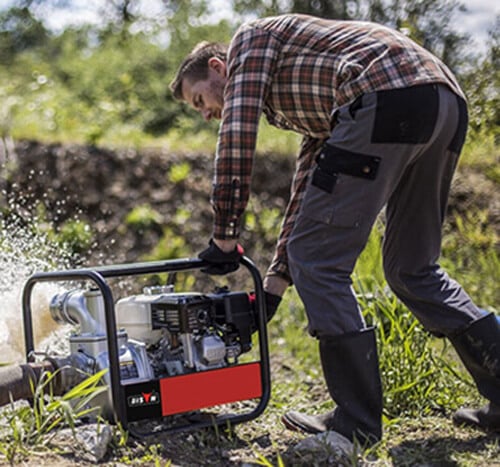 BISON Gasoline Water Pump comparison chart
gasoline water pump
BS15
BS20
BS30
BS40
inlet and outlet size (mm)
40(1.5″)
50(2.0″)
80(30″)
100(4.0″)
pump lift (m)
20
28
30
25
suction height (m)
7
8
8
7
flux (m鲁/h)
20
36
60
75
engine model
BS156F
BS168F-1
BS168F-1
BS170
type
single cylinder, air-cooled, 4-stroke
displacement (cc)
93.5
196
196
210
max power (kw)
2
5.2
5.2
5.6
rated power (kw)
1.8
4.7
4.7
5.1
rated speed (rpm)
3000/3600
3000/3600
3000/3600
3000/3600
bore*stroke (mm)
56*38
68*54
68*54
70*54
compression ratio
7.7
8.5
8.5
8.5
fuel tank volume (l)
1.6
3.6
3.6
3.6
mass weight (kg)
22
28
30
39
size (l*w*h) (mm)
420*335*335
488*390*408
510*390*431
605*435*480
20gp (set)
686
385
330
160
40hq (set)
1568
900
828
402
Gasoline Water Pump: A Reliable Solution for Your Business
As a dealer, purchasing gasoline water pumps from a manufacturer is a critical part of your business. This guide will walk you through all the important points you need to consider when buying gasoline water pumps. By keeping these points in mind, you can ensure that the gasoline water pumps you purchase are not just high-quality and reliable, but also cater to a wide range of customer needs and preferences.
Understand Your Market
Before you start buying, it's important to understand the needs and demands of your market. Are your customers looking for heavy-duty pumps for commercial use or lighter models for residential use? What kind of power output do they need? Understanding these details will help you make better buying decisions.
Pump Specifications: Gasoline water pumps come with different specifications such as horsepower, water flow rate (GPM), head lift, and inlet/outlet size. Choose a manufacturer with a diverse product range to cater to a wide variety of customer needs. BISON gasoline water pump line includes pumps with horsepower ranging from 2HP for smaller tasks, up to robust 20HP models for heavy-duty applications. The water flow rates in our pumps can vary from 50 GPM for residential use, up to 500 GPM for industrial needs.
Fuel Efficiency: Fuel efficiency is an important factor for many buyers. More efficient models can save users money on fuel costs and are generally more environmentally friendly.
Ease of Use: Pumps that are easy to operate, with clear instructions and user-friendly controls, are likely to be more popular among your customers. Each BISON pump comes with a detailed yet easy-to-understand user manual, making operation straightforward even for first-time users.
Noise Level: Noise level can be an important factor, especially for residential users who might be operating their pumps in noise-sensitive environments. Check the decibel levels of the pumps and opt for quieter models if possible.
Safety Features: Safety is a key consideration. BISON Pump series includes a built-in thermal overload protection feature, an automatic low oil shutdown function, and safety valves. These features mean your customers can use our pumps with confidence, knowing they have an added layer of protection.
Evaluate the Manufacturer
When choosing a manufacturer, consider their reputation, years in business, and the quality of their products. Do they offer warranties? Are their products certified by relevant authorities? It's also crucial to check if they provide after-sales service and spare parts. Is the manufacturer reliable when it comes to delivery times? Assess the manufacturer's commitment to innovation and technology. A manufacturer that continually improves their products is likely to offer superior quality.
BISON has been growing rapidly over the years and we have a proven track record of delivering high quality products. All of our pumps are ISO 9001 certified and come with a comprehensive 1 year warranty. For water pump dealers, we will also provide free accessories or wearing parts to help you with after-sales. We are committed to innovation and invest 15% of our annual revenue in research and development.
Pricing
Consider the cost of the pump and compare it with its features and benefits. Remember, the cheapest option isn't always the best. You need to find a balance between cost and quality to ensure profitability. An expensive product can still offer great value if it's high-quality and packed with useful features.
Branding Opportunities
Consider if the manufacturer provides opportunities for branding. BISON offer customization options for orders over 50 units, allowing you to brand our pumps with your dealership's logo. This not only enhances your brand visibility but also fosters customer loyalty.
Training and Support
Does the manufacturer offer training on their products? Having detailed knowledge about the pumps you're selling can help you provide better service to your customers. Also, check whether they provide technical support in case of any issues.
BISON provides pump-related videos and detailed product manuals to ensure you have a deep understanding of our pumps. Our technical support team is available 24/7 to assist you with any issues and queries.
Maintenance and Repair Services
Understand the maintenance requirements of the pumps and whether repair services are readily available. BISON provide detailed maintenance guides with each pump and offer repair support with an average turnaround time of just 48 hours.
Environmental Impact
Consider the environmental impact of the pumps. BISON water pumps are designed with eco-friendly features like low-emission engines and energy-saving technologies. By choosing us, you're aligning with a manufacturer that prioritizes sustainability and environmental responsibility.
By choosing us as your supplier, you're investing in a range of products that offer quality, efficiency, and safety. We look forward to partnering with you to meet your customers' diverse needs.

QUESTIONS?
CONTACT US TODAY.
Contact Us And Start Your Water Pump Bussiness with Your Own Logo & Design