BISON is proud to offer over 50 different styles of gasoline generators covering the power range from 0.5kW to 15kW. Our innovative technologies ensure optimal performance and longevity of our products, setting us apart in the industry. BISON has 6 advanced production lines, with a strong production capacity of 20,000 units per month, and timely delivery is guaranteed even for large orders. We take quality assurance seriously and are certified to ISO 9001:2015, CE and EPA standards. In our company, we don't just wholesale gasoline generators, we provide energy solutions to power your success. Trust us to enhance your business with reliable, efficient, and high-quality power solutions.
BISON gasoline generators stand out for their extensive range, innovative technology, reliable performance, high production capacity, and internationally recognized quality certifications, providing energy solutions that are both efficient and trustworthy.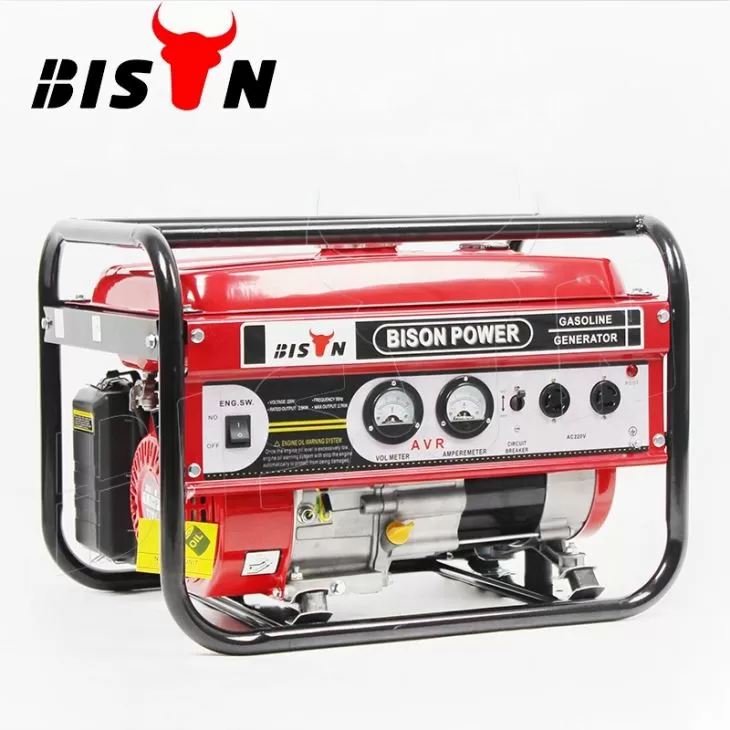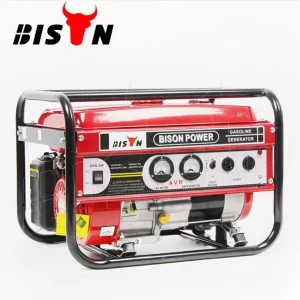 Presenting BISON recoil gasoline portable generator single-phase, a compact powerhouse engineered to meet your most
Discover the versatility of BISON's range of dual fuel generators, designed for flexibility and reliability. Did you know? All our gasoline generators can be easily converted to other fuel types with our convenient conversion kits.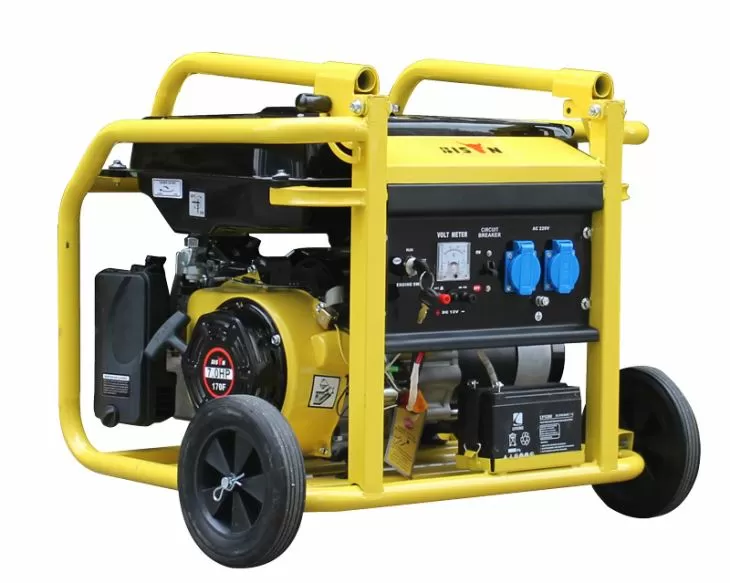 -Product Description BISON's natural gas dual-fuel generators are a technologically advanced, cost-effective and environmentally friendly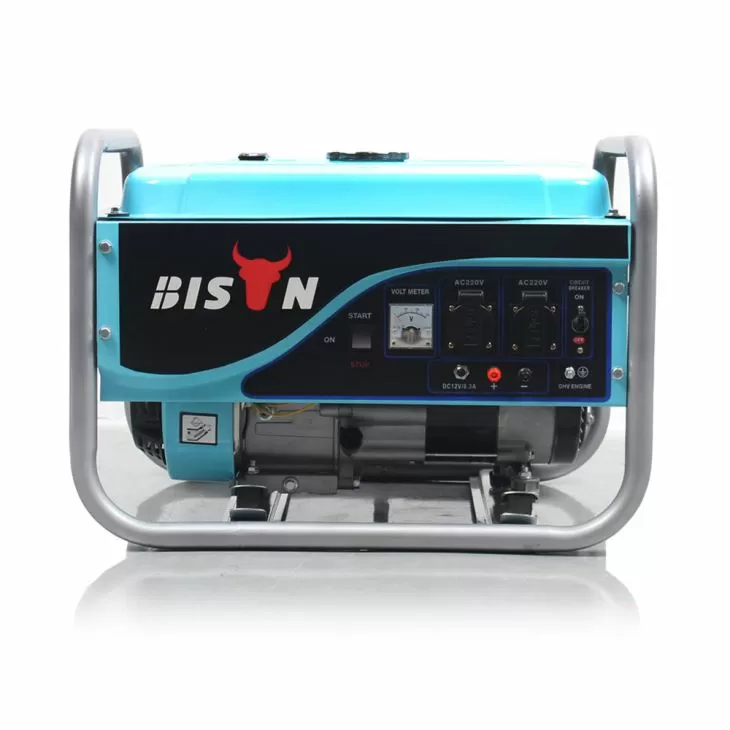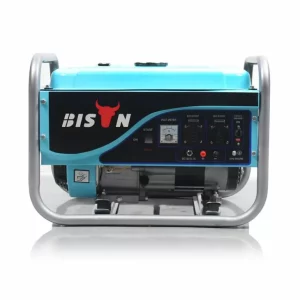 Product Description 2000 watt dual-fuel variable frequency generator provides you with innovative and multifunctional power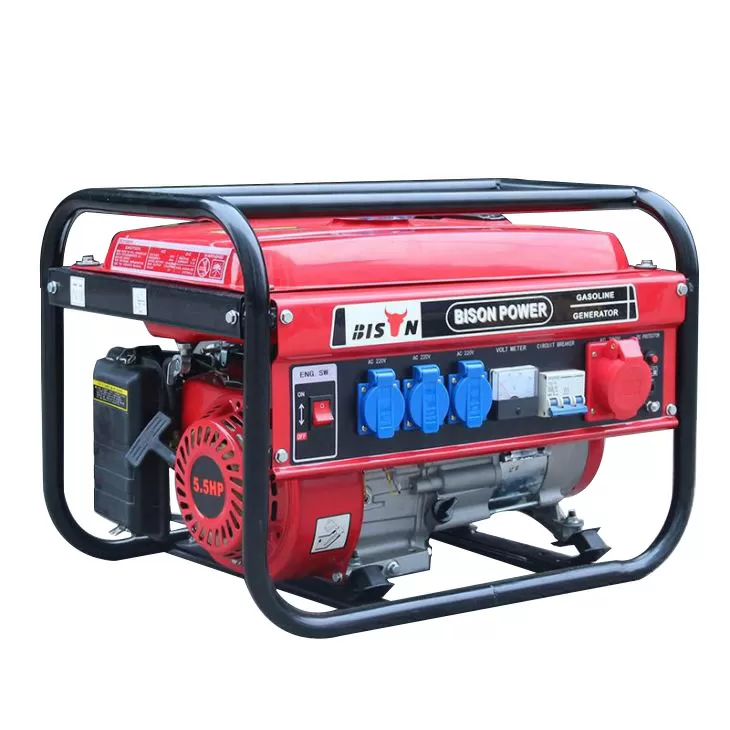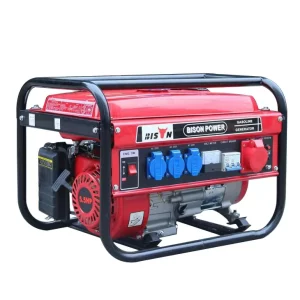 Our company adopts the new technology to produce this product. The brushless motor with all
Start your Chinese gasoline generator wholesale business from now on.
What makes us competitive?
Competitiveness of BISON Gasoline Generator
What makes us competitive?
BISON Gasoline generator comparison chart
Gasoline Generator
BS950
BS1500
BS2500
BS2800
BS3500
BS4500
BS6500
BS7500
BS8500
BS9000
BS9500
BS11000
BS12000
BS15000
Frequency(HZ)
50/60
Voltage(V)
110/220/230/380
Max. Power(kva)
0.65
0.9
2.3
2.8
3
3.5
5.5
6.5
7.5
8
9
10
13
17
Rated Power(kva)
0.75
1
2
2.5
2.8
3
5
6
7
7.5
8
9
12
15
Power factor(cos)
0.8/1.0
DC Output
12V/8.3A
Model
BS1E45F
BS156F
BS168F-1
BS170F
BS170F
BS177F
BS188F
BS190F
BS192F
BS192F
BS194F
BS2V78F
BS2V80F
BS2V90F
Output(HP)
2
3
6.5
7
7
9
13
15
18
18
19
24
25
26
Displacement(cc)
63
93.5
163
196
210
270
389
420
420
448
489
678
713
999
Starting System
Recoil/Electric
Type
2-Stroke, Air-cooled
Single cylinder, Force air-cooled, 4stroke, OHV
Double-cylinder,Force air-cooled,4stroke,OHV
Ignition System
Non-contact transistorized ignition(T.C.I.)
Fuel Tank (L)
4
9
12
12
25
25
Oil Capacity (L)
0.4
0.6
1.1
1.5
Dimension(LXWXH)mm
380*320*320
460*370*370
606*446*445
610*440*440
633*443*443
690*530*555
700*530*555
725*530*600
1050*740*735
G.W (kg)
19
29
35
37
37
37
76
78
83
86
89
162
168
210
Standard Equipment
Large capacity fuel tank, large capacity muffler, fuel gauge, voltmeter, AVR, oil alert, AC circuit breaker
20FT(SETS)
730
520
230
230
132
60
40HQ(SETS)
1720
1320
580
580
272
132
We are a generator factory located in Taizhou City, Zhejiang Province. There are currently 2 factories with an annual output of more than one million units and more than 400 employees.
Quality control is essential to building a successful business that delivers products that meet or exceed customers' expectations. It also forms the basis of an efficient business that minimizes waste and operates at high levels of productivity. So, each of our products, whether raw materials or finished products, will be inspected and tested one by one.
In some cases, it is possible to convert a gasoline generator to run on propane or natural gas. Conversion kits are available for certain models, allowing you to switch between fuel types. However, it's crucial to consult BISON or a professional technician to determine if your specific generator is compatible with conversion kits.
Gasoline Generator purchase Guide: Making the Right Choice
Selecting the right gasoline generator for your business involves several factors. This guide will help you navigate these considerations and ultimately choose the generator that meets the needs of your customers.
Power Output
The power output, measured in watts, determines how many appliances the generator can power simultaneously. The needs of your customers – whether they'll be using the generator for backup power at home or for a business – will dictate the required power output. BISON generators come in a variety of power outputs to meet all your needs.
Fuel Efficiency and Runtime
Fuel efficiency is a key factor when choosing a generator. More fuel-efficient models save money over time and are more environmentally friendly. Also, consider the generator's runtime – how long it can operate on a full tank of fuel. Some models have features like eco-mode, which adjusts the engine speed to match the power demand, enhancing both fuel efficiency and runtime. In addition, you can also choose our custom service to customize the size of the generator oil tank.
Noise Level
Generators can be noisy, which may be problematic in residential areas or during night hours. Some generators come with noise reduction features, making them more suitable for these scenarios.
Size and Portability
The size of the generator should correspond to its power output. If portability is important to your customers, look for models designed with this in mind, such as those with handles and wheels.
Durability and Warranty
A generator is a significant investment, so durability is a crucial consideration. Look for models made with sturdy materials and robust design. Additionally, a good warranty period indicates the manufacturer's confidence in their product and provides peace of mind.
Safety Features
Safety should never be compromised. Look for generators equipped with safety features such as automatic shutdown for low oil levels, overload protection, and spark arrestors.
Brand Reputation
Lastly, consider the reputation of the brand. A well-established brand with positive reviews and a proven track record provides assurance of the generator's quality and reliability.
Maintenance and Serviceability
A generator that is easy to maintain and service will save your customers time and money in the long run. Look for models with easily accessible parts and clear, easy-to-follow maintenance instructions. Also, consider the availability of spare parts and the manufacturer's customer service reputation. Our models are easy to maintain and service, and our customer service team is always ready to assist you.
Type of Fuel
While we're focusing on gasoline generators, it's worth noting the type of fuel used. Gasoline is widely available and convenient, but some customers may prefer dual-fuel models that can also run on LPG or diesel for added flexibility.
Start Type
Generators typically come with either a manual pull start or an electric start. Electric start models are easier to operate, but they can be more expensive. Understand your customers' preferences and needs before deciding.
Weather Protection
If your customers plan to use the generator outdoors, consider models designed to withstand the elements. Weather-resistant features such as covered outlets and corrosion-resistant frames can extend the life of the generator. In addition, choose add-ons, which can make it easier for you to start the generator in the cold winter
Price Point
Finally, consider the price point of the generator. While it's important not to compromise on quality, you also need to ensure that the generator fits within your customers' budgets. At BISON, we provide a range of options to fit different budgets without compromising on performance or reliability.
QUESTIONS?
CONTACT US TODAY.
Find out more ABOUT US or CONTACT US to discuss your specific requirements.