Wholesale China Inverter Generator​
Welcome to our advanced range of China Inverter Generators ranging from 1,000 to 6,000 Watts, designed for portable and standby applications. Our products are driven by technological innovation to ensure best-in-class performance, efficiency and reliability. These generators are supported by our high capacity factory which produces over 500,000 generators per year thanks to our efficient management system. We ensure quality through rigorous testing methods, making our generators not just a purchase, but a reliable power solution.
Unmatched power efficiency, lower noise levels and seamless operation make BISON inverter generators the ideal choice for those looking for a reliable and innovative power solution.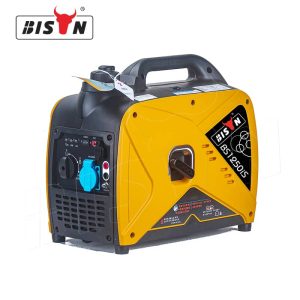 The BISON BS-S2000ie portable inverter generator is the perfect solution for home backup power. It
Start your Chinese inverter generator wholesale business from now on.
What makes us competitive?
Competitiveness of BISON Inverter Generator
BISON Inverter generator comparison chart
Inverter Generator
BS-R1250iS
BS-R2000iS
BS-R2000
BS-R2500is
BS-R3500iE
BS-R4000i
BS-R8000iD
BS-5000iE
Engine type
Single cylinder, 4-stroke, OHV
Bore * Stroke
45*38mm
48*43mm
48*43mm
60*43mm
70*55mm
70*55mm
90*66mm
90*66mm
Displacement
60ml
79.7ml
97.7cc
122ml
212ml
212ml
212ml
420ml
Compression ratio
8.2:1
8.7:1
2.2
8.2:1
8.0:1
8.5:1
8.0:1
8.5:1
Rated frequency
50/60Hz
Rated voltage
110/120/220/230/240/380/400V
Rated power
1.0kw
1.8kw
2.3kw
2.3kw
3.2kw
3.2kw
7.0kw
6.8kw
Max.power
1.1kw
2.0kw
2.2kw
2.5kw
3.5kw
3.5kw
7.5kw
7.5kw
DC output
12V/5A
12V/8.3A
Starting system
Recoil
Recoil Starter/Electric Starter
Fuel tank capacity
2.6L
4.0L
4.0L
4.5L
8.3L
7L
15L
24L
Full load continuum running time
3.5h
4h
4h
3h
5h
4.3h
6.5h
6h
1/2 load continuum running time
5.2h
6h
6h
5h
8.5h
7h
10h
8h
Noise(7m)
63dB
67dB
67dB
67dB
66dB
76dB
76dB
76dB
Dimensions(L * W * H) (mm)
450*240*395
498*290*459
498*290*459
520*320*450
605*432*493
502*350*495
605*514*537
695*641*643
Net weight
13kg
22kg
23kg
25kg
44.5kg
30kg
65kg
76kg
Inverter Generator Buying Guide: Making the Right Choice
Choosing the right inverter generator can be a daunting task, especially with so many options on the market. However, by understanding your power needs and considering a few key factors, you can make an informed decision that will benefit you for years to come. The following step-by-step guide will help you through the selection process:
Step 1: Know Your Power Needs
Start by calculating the total power consumption of the equipment your customer plans to use with the generator. This will give you a rough estimate of the wattage you will need. Remember to consider running wattage and starting wattage. BISON's variable frequency generator product line provides various power outputs from 1000w to 6000w, ensuring us to meet different power needs. Our team is ready to help you calculate your total power consumption and match it to the perfect generator.
Step 2: Consider Fuel Efficiency
A variable frequency generator with intelligent throttling technology is strongly recommended. They adjust the engine speed according to demand, which not only saves fuel, but also reduces noise levels, which can save you a lot of money in the long run.
Step 3: Evaluate portability
If your generator needs to be moved frequently, consider its weight and size. Compact models with built-in handles or wheels for easy transport. We have designed our generators with user convenience in mind.
Step 4: Check the noise level
For a peaceful experience, especially in residential areas or campgrounds, choose a generator with a low decibel rating. Some models have noise cancellation, which can be beneficial. BISON's inverter generator operates as low as 60 decibels, ensuring a peaceful experience whether you're at home or on a camping trip.
Step 5: Check the running time
The longer the generator runs on a full tank, the less often you will need to refuel. Therefore, when choosing a variable frequency generator, please consider the running time. With our inverter generators, you can get an impressive run time of up to 8 hours on a full tank. That means less frequent refueling and more time powering your activities.
Step 6: Review additional features
Our inverter generators give you the versatility you need with advanced features like paralleling capability and multiple power outlets including USB ports. The parallel function allows you to connect two generators to increase power output.
Step 7: Consider Price
While price is an important factor, don't sacrifice quality to save a few bucks. Remember to also factor in ongoing costs like maintenance and fuel. BISON ensures our prices are competitive
Step 8: Choose the right manufacturer
In the end, the manufacturer plays a vital role in the overall quality and reliability of an inverter generator. When you choose BISON, you're buying more than a generator; you're buying a reliable power solution. Our strengths include:
Brand Reputation: With years of market experience, we have built a solid reputation for producing reliable, high-quality inverter generators.
Excellent After-sales Service: Our comprehensive warranty and responsive customer service team ensure peace of mind after your purchase.
Certifications: We comply with international quality standards and hold the necessary certifications to guarantee you safe, high-performance products.
QUESTIONS?
CONTACT US TODAY.
Find out more ABOUT US or CONTACT US to discuss your specific requirements.